Server-grade Computer-on-Module for High Density Storage Test Equipment
17/09/2017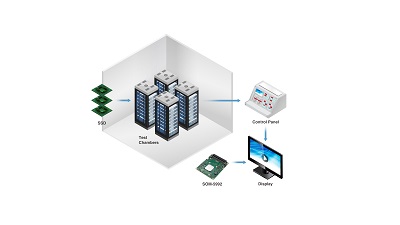 Test equipment for high density storage products are designed to be a highly parallel, high performance and scalable test solutions for all kinds of storage products. This project was developed to support a large number of drives to be tested in parallel at their highest bandwidth speeds including SSD, HDD, PCIe, and hybrid devices throughout all the stages of their production process.
The customer wanted a compact product design that could fit in a space based on a 10 x 20 cm carrier board. It needed to have server-grade industrial requirements and be able to support simultaneous tests for over 500 units of equipment with the use of 24-channel PCIe Gen3 expansion. Low power consumption with high computing performance was needed with excellent heat dissipation in a compact mechanical design.
Advantech's SOM-5992 COM Express Basic Module met the customer's demand for a compact design with flexible options. SOM-5992 with Intel Xeon processor can cover thousands of data exchange demands. SOM-5992 provides 32-ch PCIe expansion allowing for a 6 x PCIe x4 Gen3 configuration in support of a high density test system. It has limited power consumption with a TDP of 45W and has a highly efficient thermal solution to solve heat dissipation easily.
As a global leading provider in embedded computing platforms and embedded solutions, Advantech has been dedicated to the vision of enabling an intelligent planet. The recent release of
SOM-5992
, a COM Express® Basic Module Type 7 pin-out incorporates an Intel Xeon processor providing high performance processing power that satisfied the customers' application needs for 10 GbE data transfer interface and BMC (Block Multiplexer Channel) applications.
Modularized computer allows flexible upgrades and easy maintenance.

SOM-5992 is the world's first COMe product able to provide up to 64GB of DDR4 memory, dual 10GbE Ethernet interface, and 32xPCIe slots which deliver outstanding computing power.

Limited power consumption.

The newest heat dissipation technology.

Enhanced reliability, availability, and scalability allow for quick integration, easy platform upgrades, and hardware virtualization benefits.