New Thermal Solution for High Performance COM Express CPU Module
10/09/2015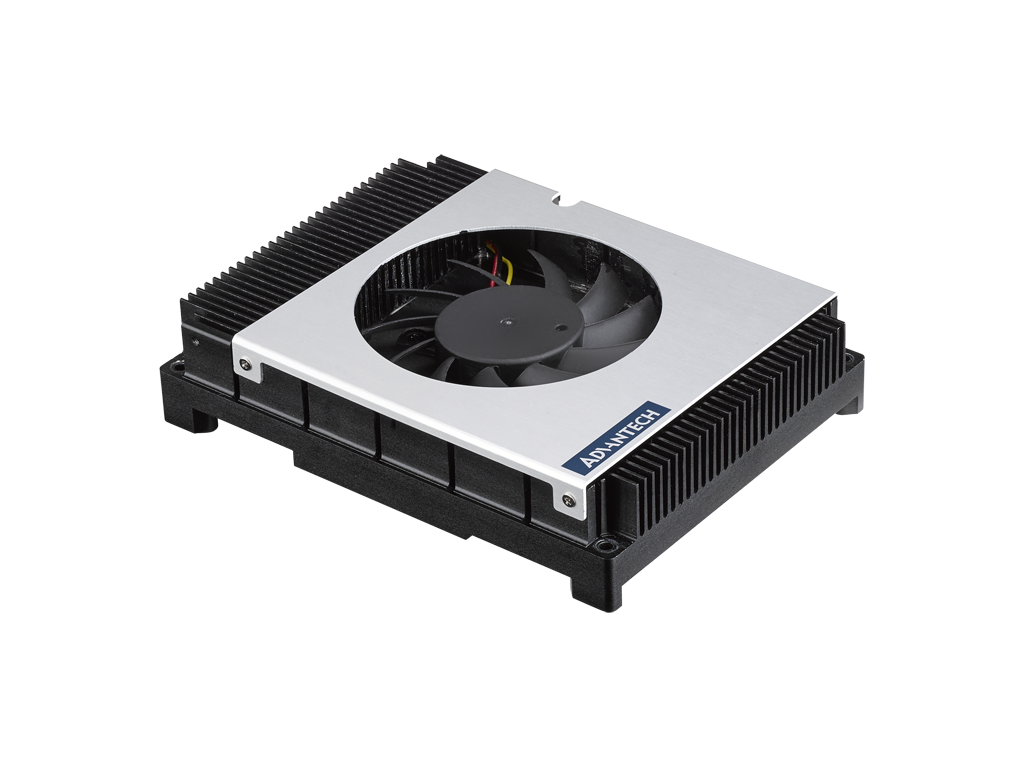 Sept. 10th, 2015, Taipei - Advantech, a leading embedded computing solution provider, today announced the release of its new thermal solution for COM Express Basic Module — the Dynamic Heat Conduction System (DHCS).
This is an advanced technology which differs from traditional COM Express thermal solutions; DHCS uses a built-in dynamic block to resolve the dimension tolerance between CPU and thermal module, so the block can contact the CPU surface directly and tightly without any gap pad. This revolutionary design shortens the heat conduction path, and makes heat dissipation more efficient. In a direct comparison test with a traditional two-piece thermal module, the thermal solution with DHCS delivered a CPU temperature 20 ˚C lower. This can benefit applications that require high computing performance, and is especially suitable for high-end COM Express solutions and harsh application conditions, such as those in the traffic, medical, and military sectors.
Outstanding Heat Dissipation Leads to High Computing Performance
DHCS is different from the traditional thermal module, which usually uses a gap pad as thermal interface material to fill any mechanical gap. In the DHCS solution, we have replaced the gap pad with a self-adjusting copper block that directly contacts the CPU. Moderate pressure keeps the dynamic block in tight contact with the CPU surface for excellent heat transfer. This pulls heat away from theCPU quickly and helps the CPU achieve ultimate computing performance.
Dynamic Block Prevents Board Warp
In order to improve heat dissipation, we reduced theheat conduction path; now the CPU contacts the copper block directly without any intervening material. Since the DHCS is a compressible and resilient unit, moderate pressure is sufficient to mate the block with the CPU. This reduction in pressure on the CPU die takes a load off the underlying PCB. Reduced loading means the board stays flat.
Easy, Rock Solid Assembly with COMe
The DHCS thermal solution uses standard screws for assembly, so users need only follow the torque specification of the screw type to assemble the thermal module to the carrier board. This makes assembly easy, and screw heads can be firmly locked to the thermal module to avoid loosening if the system is to be operated in a vibrating environment.
Dynamic Heat Conduction System Thermal Solution Features
DHCS mates dynamic block tightly to CPU for better heat transfer performance.

Copper-based block provides better thermal conductivity.

The dynamic block is flexible; moderate yet sufficient pressure keeps COM board flat.

Standard screws prevent assembly loosening even under vibration.

Supports pre-assembly with COM Express module.

---
About Embedded Core Service
Advantech Embedded Core Services offers design-in oriented services. These streamlined solutions broadly integrate embedded boards, peripheral modules and software. This dedicated focus on Embedded Design-in services fulfills electronic engineering demands at their design-in phase, and brings benefits that shorten the design and integration cycles, minimizing uncertainty and risk. www.advantech.com/EmbCore
About Advantech
Founded in 1983, Advantech is a leader inproviding trusted, innovative products, services, and solutions. Advantech offers comprehensive system integration, hardware, software, customer-centric design services, embedded systems, automation products, and global logistics support. We cooperate closely with our partners to help provide complete solutions for a wide array of applications across a diverse range of industries. Our mission is to enable an intelligent planet with Automation and Embedded Computing products and solutions that empower the development of smarter working and living. With Advantech, there is no limit to the applications and innovations our products make possible. (Corporate Website: www.advantech.com).