Advantech Launches Full Support of Microsoft Windows 10 Enabling the IoT
30/07/2015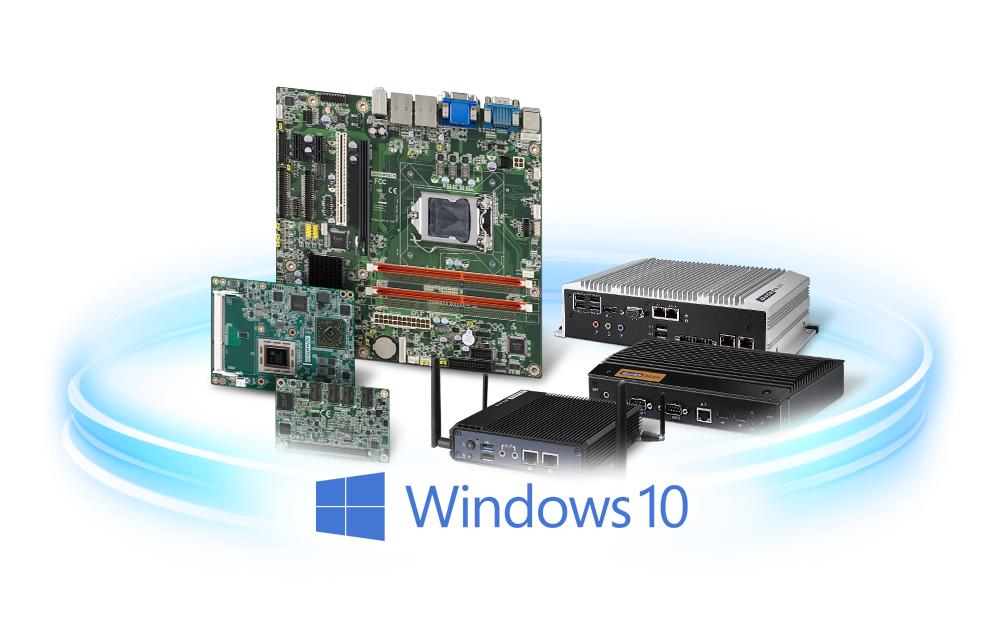 July 30, 2015, Taipei – Advantech, a global leader in the embedded system market, is pleased to announce its support of the newly released Windows 10 IoT (Internet of Things). Windows 10
IoT will power a range of intelligent connected devices from smaller equipment such as gateways or mobile point-of-sale units, to industrial devices like robots and specialty medical equipment. Designed to connect through Azure IoT Services, Windows 10 IoT offers enterprise-grade security along with native connectivity for machine-to-machine and machine-to-cloud scenarios.
Connecting to Azure Cloud Services
Azure IoT Suite is an integrated offering that takes advantage of all relevant Azure capabilities to connect devices and other assets (i.e., "things"), capture the diverse and voluminous data they generate, integrate and orchestrate the flow of that data, and manage, analyze, and present it as usable information that either helps people to make better decisions or boosts intelligent automation of operations. The offering, while customizable to fit the unique needs of organizations, will also provide finished applications to speed deployment of common scenarios we see across many industries, such as remote monitoring, asset management and predictive maintenance, while providing the ability to grow and scale solutions to cover millions of "things."


Seamless Sensor/Gateway Communications
The Internet of Things succeeds only when things are able to communicate with one another. Within proprietary Windows 10 IoT networks, establishing that communication is fairly easy with AllJoyn. AllJoyn is an open source software framework and set of services that aims to enable interoperability among connected devices, regardless of the underlying proprietary technology or communications protocols. By implementing AllJoyn in Windows 10, Microsoft is joining with more than 80 alliance members to support interoperability across a variety of platforms and at scale, advancing the development and vision of IoT.

New Feature Highlights

Virtual Desktops
A key tweak has been made to one of the most important features of Windows 10, as far as hardcore desktop users are concerned, which is virtual desktops. On previous builds the apps you had open on any desktop were shown on every desktop's taskbar, making it cluttered. Not so with Windows 10.
Task View for Serious Multitasking
Multitasking is one of the better executed features in Windows and now Microsoft is adding something it's calling Task View to make it even more useful. Sat on the taskbar at the bottom of the screen, task view, when launched, will display all of your currently opened apps.
Multiple Desktops for Power Users
When you launch task view, Windows 10 will support the ability to view multiple desktops. You can switch between different desktops where multiple apps run. Using the new 'Snap Assist' UI youwill also be able to grab apps from those different desktops. If it works as advertised, this could be a seriously impressive feature.
Advantech Provides Platform-Ready and Solution-Ready Services
Advantech offers over diverse platforms with Windows 10 IoT pre-installed, including boards, systems, and gateways. And Advantech WISE-PaaS Platform as a Service fully supports Windows 10 IoT with Core, Mobile, and Industry versions through Universal Windows Apps structure to offer Cloud Services. By adopting it, developers can rapidly build and deploy applications with greater speed, flexibility, and agility. It enables developers to easily and effectively construct IoT cloud solutions.


Advantech Supports Windows 10 with New Generation H/W Platforms:
Product Category
Model List
Computer On Modules
SOM-7568/SOM-7567/SOM-6868/SOM-6867/SOM-6897/
SOM-6896/SOM-6894
SOM-5897/SOM-5894/SOM-5893/SOM-3568
Single Board Computers
MIO-5251/MIO-2263/MIO-3260/MIO-5271
PCM-9365/PCM-3365
Industrial Motherboards
AIMB-115/AIMB-203/AIMB-225/AIMB-226/AIMB-274/
AIMB-503/AIMB-584
Fanless Embedded Systems
UTX-3115/ARK-2121F/ARK-2230
WaysideControllers
ITA-2111/ITA-2211
DigitalSignage Players
DS-370
Fanless Panel PCs
PPC-3150/PPC-3170/PPC-3190/PPC-6120/PPC-4151/
PPC-4211/PPC-1101
Automation Controllers
UNO-1372G/UNO-3273G/UNO-1483G/UNO-3382G/
UNO-3384G/UNO-2272G
Touch Panel Computers
TPC-651/TPC-1251/TPC-1551/TPC-1751/TPC-1051WP/
TPC-1551WP/TPC-1282T/TPC-1582H/TPC-1782H/
TPC-1881WP/TPC-1751T
Medical Computers
POC-W242/POC-W212/POC-W181
Others
IPPC-5211WS/USM-2000/UTC-315D/MICA-07/ASMB-9131
AGS-913/PCE-5128/TREK-688