The New Era of 3D Medical Video Imaging
19/08/2021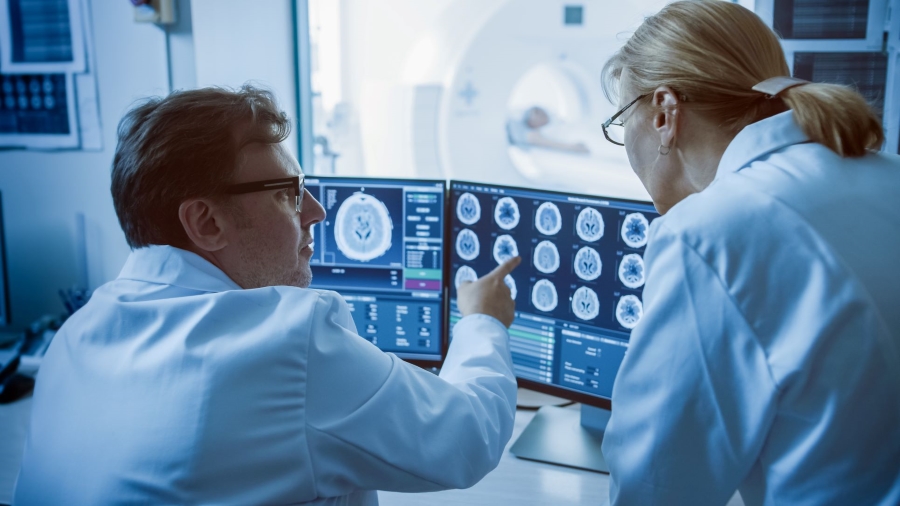 Cutting-edge medical imaging technology has revolutionized the healthcare sector and is typically used by healthcare professionals to diagnose and treat patients. Furthermore, state-of-the-art 3D medical imaging gives an improved understanding of human anatomy, enables better image resolution for advanced medical analyses and treatments, and is used to train healthcare staff.
Therefore, a requirement for medical imaging technology is the ability to record and store complex surgical operation procedures efficiently for future use. However, the increase in the quality and size of medical imaging files has led to an increased need for an effective storage system of these images for future use.
As such, robust medical imaging technology must be comprised of efficient storage configurations, cost-effective video recording and streaming options, and real-time video functionality to advance complex diagnostic and surgical treatment.
The project entailed upgrading the video storage capabilities of a new range of surgery visualization assistants for a leading manufacturer of surgery equipment. The solution required recording and storing high-quality live images as seen by the surgeon during surgical operations. In addition, the importance of the data necessitated the recording and archiving of live images inclusive of a wider patient view and the precise information from the surgical procedure. As such, the final solution had to provide an effective means to store high-quality video for historical records and mitigate the impact on long-term requirements.The following is a summary of the specific requirements:
Efficient storage options
Reduce total cost of ownership
Feature high-quality video solutions across multiple views
Facilitate real-time imaging
The smart solution entails the customization of Advantech's VEGA-6301M, a low-power video processing platform and compact video appliance with real-time High Efficiency Video Coding (HEVC) 4Kp60. It allows users to capture and adapt live video at up to 4K/UHD resolution from Serial Digital Interface (SDI) or High Definition Multimedia Interface (HDMI) feeds and then encode for streaming to content delivery or distribution networks by using the latest hardware HEVC compression technology.
In addition, two separate HDMI or three separate SDI inputs capture video recordings from the surgeon's 3D interface incorporating a relatively wider patient view. The video recordings are then scaled and assembled into a single 4K composite image using a Field-Programmable Gate Array (FPGA) based processing technique. For efficiency, the video is then compressed for recording alongside time-stamped metadata corresponding to the surgeon's operational procedure. The videos are recorded locally on a high capacity Solid-State Drive (SSD) with the ability to bulk offload to a hospital storage option via a 10Gb Ethernet port.
VEGA-6301M

HDMI / SDI Stereo camera

Solid-State Drive (SSD)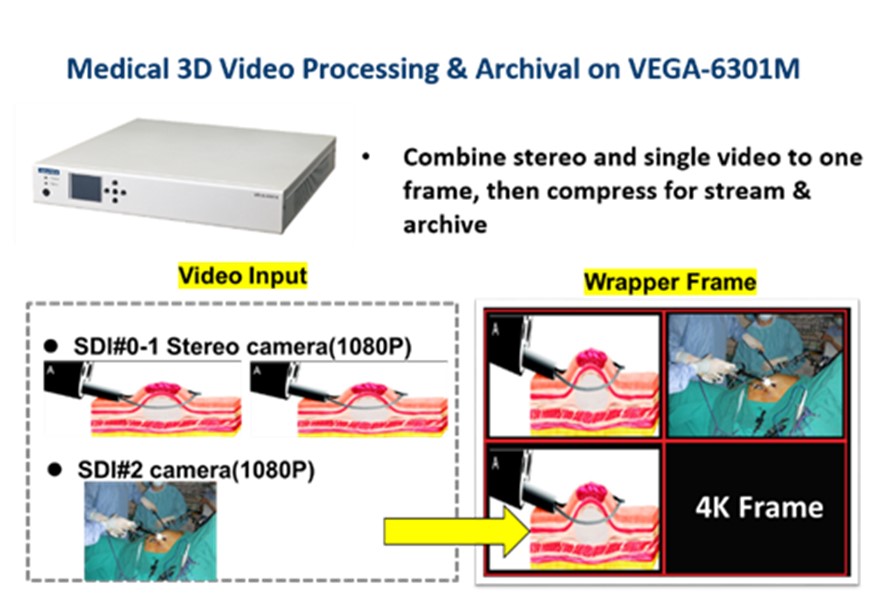 Advanced 3D medical video imaging continues to transform and improve the healthcare sector globally. This has led to the development and improvement of smart technological solutions to yield an enhanced understanding of human anatomy and improved image resolution for advanced medical analyses and treatments.
In response, Advantech collaborated with a leading OEM manufacturer in the medical field to improve the video storage capabilities of a new range of surgery visualization assistants. The resulting solution served to facilitate the capability to record and store high-quality recordings during surgical procedures. The smart solution included a customized Advantech VEGA-6301M, which offers a range of low-power, high-performance video capture, encoding, and decoding accelerators suitable for embedded medical applications. The functionality could then be utilized both in the operating room and in-hospital equipment rooms, further advancing the transformation of the healthcare sector.
The smart solution places real-time video functionality, efficient storage options, and real-time video capabilities in the hands of healthcare providers to enhance education, training, compliance, quality of care, ultimately enabling greater efficiency in the operation theater and a greater focus on patient care.