Advantech Joins Hands with Actility to Accelerate Smart Factory LoRaWAN® IoT Solutions Delivery
07/04/2021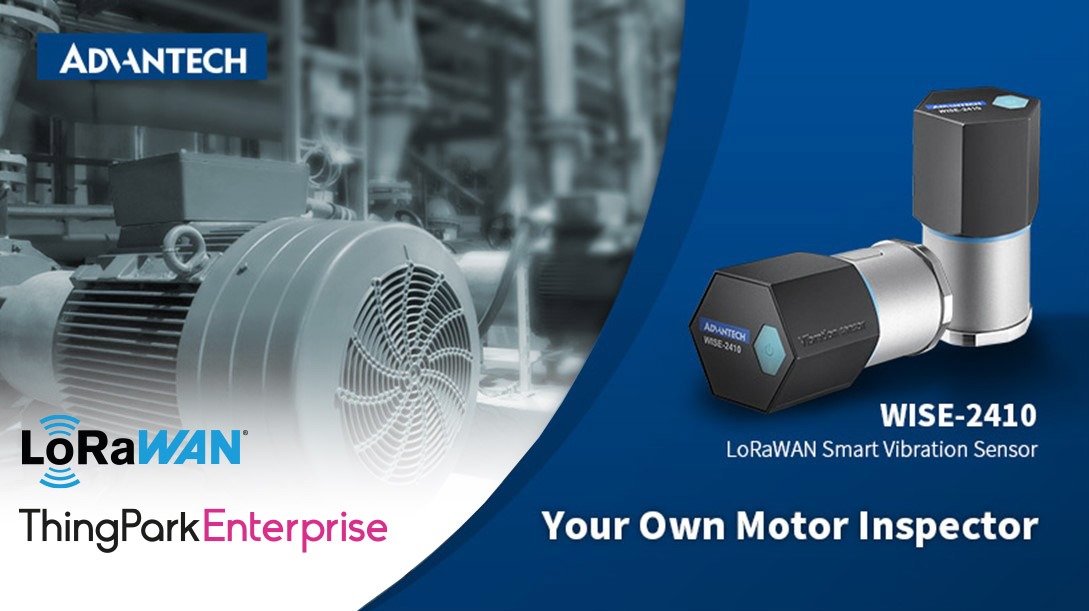 April 7, 2021, Taipei, Taiwan - Advantech (2395 TW), a global leader in Industrial IoT technology, has partnered up with global LoRaWAN® Network Server solutions provider Actility to simplify IoT solutions deployment on LoRaWAN® networks, in order to meet the needs of the industrial automation market in North and South America, Europe, and Asia. As a start, the partners announced the launch of the new Advantech's WISE-2410 LoRaWAN® smart vibration sensor with full integration into Actility's ThingPark Enterprise IoT platform. The sensor monitors surface temperatures of machines and autonomously calculates their vibration values and characteristics for predictive maintenance applications.
Ensuring factory business continuity with easier and more powerful data collection
Traditional factories rely heavily on manual inspections, which consume human resources. This also means atypical real-time events are hard to detect and can lead to increased production costs and loss of competitiveness. In contrast, smart manufacturing relies on sensors to acquire massive amounts of data, driving automation. To enable predictive maintenance and machine learning, new computer-integrated manufacturing technologies with high levels of adaptability and digital workflows allow rapid design changes and flexible production strategies.
Smart manufacturing employs IoT technology by connecting machines and automating processes to improve manufacturing performance. Predictive maintenance is a powerful feature that gives manufacturers an advantage in efficiency and trouble-free operations. Predictive maintenance adds up to 20% in machine uptime to factory equipment, according to Deloitte's market research.
To respond to these needs, Advantech worked together with Actility to launch the new WISE-2410 LoRaWAN Smart Vibration Sensor on Actility's ThingPark Enterprise Platform. WISE-2410 can transform original vibration data into spectral information via further transformation functions to calculate vibration values. It features high penetration wireless transmission technology using LoRaWAN technology, so operators can quickly and widely install data retrieving nodes like WISE-2410 to collect and transfer data to a control center. What's more, by cross-comparison of RMS speeds and eigenvalues against ISO 10816-3 standards, end users can accurately estimate the operational status of any motor-powered mechanical equipment such as pumps, air compressors, and fans.
ThingPark Enterprise accelerates industrial facilities digitalization
In the value chain of IoT use cases, like vibration monitoring or water metering, Actility provides the connectivity layer, powered by its enterprise-grade LoRaWAN network server—ThingPark Enterprise, which currently is the leading LoRaWAN private networking solution, managing over 35,000 commercial gateways worldwide. It allows deployment of a dedicated and fully controlled LoRaWAN network. All components of the network, including sensors, gateways and data routing are managed from a unique and easy-to-use user interface. WISE-2410 is fully qualified with ThingPark Enterprise, including an IoT Driver that facilitate data ingestion & processing on any IoT Cloud platform.
Actility's ThingPark is a horizontal infrastructure supporting a huge variety of IoT use cases. It streamlines digital transformation, eliminates wiring for most sensors, enables indoor/outdoor tracking, smart metering, smart lighting, human safety and more. Moreover, ThingPark Enterprise allows full flexibility in the choice of gateways or devices. It is also scalable and secure, allowing to start with a proof-of-concept and scale up to full deployment, thus extending the value of Advantech's devices.
LoRaWAN solutions vision by Advantech & Actility
As a global leader in the industrial application equipment market, Advantech and Actility work together to drive the global industrial IoT and smart manufacturing markets forward. For Actility, this integration will allow them to pursue a strategic partnership with Advantech, with the aim of a future joint go-to-market portfolio of end-to-end IoT solutions to address a huge variety of industrial IoT use cases.
These days, data is an essential asset of any enterprise but also one of the keys to incorporating smart manufacturing. As the pace of Industrial IoT deployment accelerates and market competition becomes more intense, Advantech leverages its strong R&D capabilities and deep industry experience to assist industrial customers wanting to reap the benefits of smart manufacturing by digitally transforming their industries.
"The depth of intelligentization of manufacturers has reached a decisive point. Advantech will focus more on the development of Industrial IoT applications, assisting customers in building a smart manufacturing environment with the least amount of pain, and use the value of data to strengthen corporate competitiveness to create win-win situations," said Chingpo Lin, Associate Vice President of Advantech's Industrial IoT group.
"Leveraging both Advantech & Actility IoT field expertise will significantly benefit industries in their IoT projects and use cases deployments. This partnership will allow them to make Smart Manufacturing solutions more efficient and accessible, globally," said Olivier Hersent, CEO at Actility.
Advantech's corporate vision is to enable an intelligent planet. The company is a global leader in the fields of IoT intelligent systems and embedded platforms. To embrace the trends of IoT, big data, and artificial intelligence, Advantech promotes IoT hardware and software solutions with the Edge Intelligence WISE-PaaS core to assist business partners and clients in connecting their industrial chains. Advantech is also working with business partners to co-create business ecosystems that accelerate the goal of industrial intelligence. (www.advantech.com)
Actility is a world leader in Low-Power Wide-Area Networks (LPWAN) industrial-grade connectivity solutions for the Internet of Things. Actility provides its ThingPark™ platform and network technology to deploy, operate and maintain public and private wireless IoT networks within a unified, scalable and versatile network infrastructure. The vast majority of nationwide LoRaWAN® network service providers (over 50) and hundreds of companies trust ThingPark™ all over the world. Through its subsidiary Abeeway, Actility also provides patented ultra-low power tracking solutions. ThingPark Market offers the largest selection of interoperable IoT gateways, devices and applications to simplify and accelerate deployment of use cases. Contact us here: https://www.actility.com/contact